Few sights on earth compare to the awesome spectacle of Mont Blanc in the French Alps, the highest mountain peak in Europe. Mont Blanc was first climbed by Jacques Balmat and Michel-Gabriel Paccard in 1786, and it is still the dream of many climbers to conquer this legendary mountain. In the shadow of Mont Blanc's majestic snowcapped peak is the traditional alpine village of Chamonix – a quaint little town filled with historic churches and charming auberges (inns). Chamonix has been a world-renowned ski resort ever since the Winter Olympics of 1924 were held here. Six different ski areas cater to all levels, from beginners to extreme skiers.
Besides skiing, Chamonix is a great place for hiking, rock climbing, paragliding, golf and tennis, or just relaxing. Breathe in the alpine air, soak up the inspiring scenery, and listen to the sound of rushing streams. Discover the delightful, rustic atmosphere of cozy chalet restaurants. Savor delicious meals of authentic Savoy cuisine – hearty country cooking based on potatoes, cheese, and charcuterie. Specialties like fondue and raclette are satisfying after a long day on the slopes or hiking in the mountains.
Mont Blanc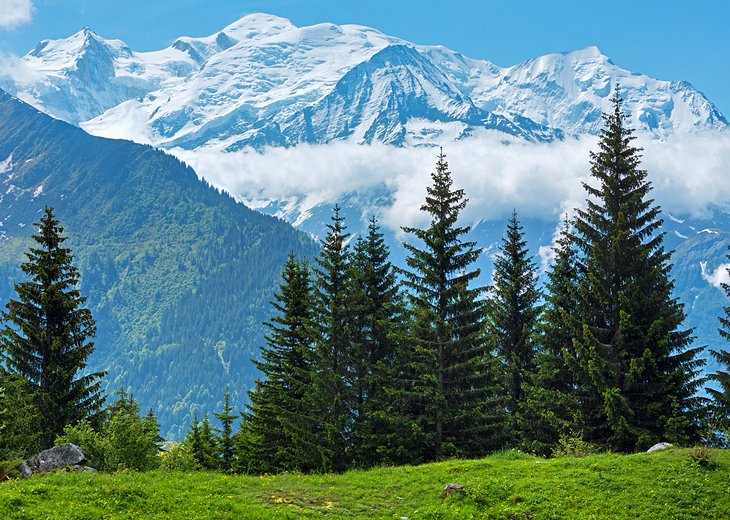 One of nature's most spectacular sights, Mont-Blanc is the highest peak of the Alps and forms part of the French border with Italy. Mont Blanc reaches an altitude of 4,810 meters, so high that it is always covered in snow-explaining why it's called the "White Mountain." Experienced climbers with a guide are able to climb to the top of Mont Blanc, although it is extremely strenuous. From Les Houches, the climb takes 10 to 12 hours. The most common climbing route is through the Aiguille du Goûter and the Arête des Bosses. After conquering Europe's highest mountain, climbers are rewarded with absolutely breathtaking panoramas from the summit. Mont Blanc is known as "the Roof of Europe" because of its thrilling viewpoints of the Aiguilles Rouges mountain ranges and Chamonix Valley. Tourists can enjoy the scenery and views on various hiking trails or by taking one of the gondola lifts.